2017-2018 Season
The New Millennium Chamber Orchestra invites you to join us in 2017-2018 for our sixth concert season, which will start with a Beethoven Concert in November.
If you'd like to be on the mailing list for this year's concerts, it's amazingly easy!
TICKETS
If you'd like to buy tickets for this year's concerts;
Advance (online): Adult $20, Senior $15, Student $8 at brownpapertickets.com
At the door: Adult $23, Senior (62+) $18, Student $10
Free for school-age children with ticket holder
---
2017-2018 Season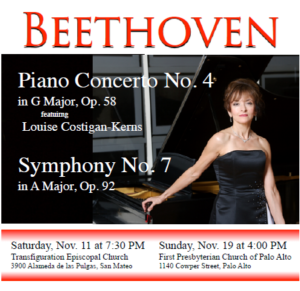 November 11th and 19th
All Beethoven Concert
Ludwig van Beethoven: Piano Concerto No. 4
Ludwig van Beethoven: Symphony No.7
ABOUT
Enjoy a lively evening featuring two of Ludwig van Beethoven's "middle period" masterpieces with the New Millennium Chamber Orchestra, Music Director James Richard Frieman, and pianist and recording artist Louise Costigan-Kerns.
Leading off the concert is the Piano Concerto No. 4 in G Major, which Beethoven wrote as a showcase for himself: it would turn out to be the last work that he performed in public as soloist. Ms. Costigan-Kerns, a renowned soloist, accompanist, educator and coach, lends her many talents to enliven the maestro's voice in this strong and delicate concerto.
The second half of the program features the great Symphony No. 7 in A Major. One of Beethoven's own favorite works, the 7th Symphony's velocity, lyricism and energy are contagious for both the performer and the listener. The composer once wrote "I write what I feel," and we invite you to join us and feel the power, passion and indomitable spirit of this great symphony!
DATES/VENUES
Saturday, November 11th 7:30 PM
Transfiguration Episcopal Church, San Mateo
3900 Alameda de las Pulgas, San Mateo, CA 94403
Sunday, November 19th 4:00 PM
First Presbyterian Church of Palo Alto
1140 Cowper Street, Palo Alto