2017-2018 Season
The New Millennium Chamber Orchestra invites you to join us in 2017-2018 for our sixth concert season, which will start with a Beethoven Concert in November – details to follow shortly.
If you'd like to be on the mailing list for this year's concerts, it's amazingly easy!
TICKETS
If you'd like to buy tickets for this year's concerts;
Advance (online): Adult $20, Senior $15, Student $8 at brownpapertickets.com
At the door: Adult $23, Senior (62+) $18, Student $10
Free for school-age children with ticket holder
---
2016-2017 Season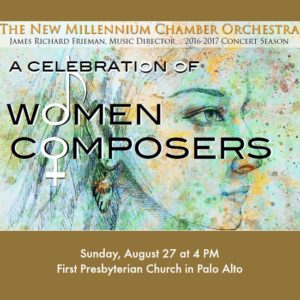 August 27
Women Composers: A Celebration
Reena Esmail: The Blue Room violin concerto
Cecile Chaminade: Concertino for flute and orchestra
Nancy Bloomer Deussen: Mulholland Recollections for Viola and Orchestra
Adrienne Albert: Courage
Fanny Mendelssohn (Hensel): Overture in C Major
ABOUT
Join Music Director James Richard Frieman and the New Millennium Chamber Orchestra as they mark the conclusion of NMCO's fifth season with "Women Composers: A Celebration." This mini-festival of music by female writers, both historical and current, spans nearly two centuries of musical history, ranging from the German Romantic tradition to the highly-diverse musical culture of the present day. Three of the works are for solo instruments and orchestra:
NMCO Concertmaster and fiddle champion Colyn Fischer essays "The Blue Room," a passionate, electrifying two-movement violin concerto by the young Chicago-born composer Reena Esmail. She writes: "The title was taken from a poem called White Key, by the Poet Laureate of California, Carol Muske. The line reads, '…like the light on the bed / In the blue room where I last held you.' The poem is such a poignant expression of love and loss and has resonated with me for years, since the day I first heard it."
Margaret Warton, NMCO principal flautist, plays Cecile Chaminade's virtuoso showpiece, the "Concertino" for flute and orchestra, one of the best known and most beloved works in the flute repertoire.
Donny Lobree, NMCO principal violist, is featured in a work by the award-winning Bay Area composer Nancy Bloomer Deussen, "Mulholland Recollections." This piece has been re-scored by Nancy expressly for Donny and NMCO from a movement of her earlier Clarinet Concerto.
The orchestra will also play two fanfares from the year 2000 by California composers: Adrienne Albert's inspirational Courage and Jacqueline Hairston's Trilogy on Spirituals – Fanfare, commissioned by the Bay Area Women's Philharmonic.
Mark your calendar now for this exciting and adventurous program of music by some outstanding female composers!
DATES/VENUES
Sunday, August 27 at 4:00 PM
First Presbyterian Church of Palo Alto
1140 Cowper Street, Palo Alto